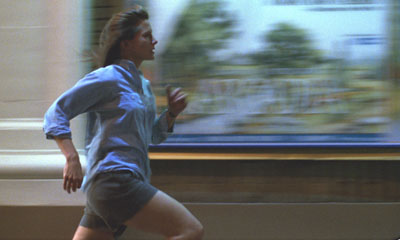 BOXOFFICE Magazine



States of Control
by Wade Major



One of the most underrated independent films of the '90s, "States of Control" is a near-masterpiece that should receive substantial attention in coming years as its makers and star find the success that is so justly due them. The disturbing story serves as an overt commentary on the ambiguities and stresses of contemporary urban life, focusing on a woman who throws her marriage and controlled existence to the wind to take a ride on the wild side, indulging not merely fantasies but self-destructive behavior in the interest of challenging long-standing social taboos. There's more than metaphor at work in the story of a woman who literally casts off the vestiges of a life that the modern world imposed on her without her permission -- it's about freedom through self-destruction, the kind of thing that recalls the writings of philosophers like Nietzsche. To find such things in a movie, of all things, is a welcome step into profundity for a form that has too long been suffocated by its shallowness.

The lead performance by Jennifer Van Dyck is hypnotic and devastatingly real and would have earned an Oscar nomination had the film been backed by the kind of money that usually supports such contenders. Writer/director/producer Zack Winestine likewise reveals himself a filmmaker of stunningly mature and observant abilities. And in case that's not clear from watching the movie, a text interview is featured on the DVD in which Winestine elaborates more on the film and its themes, even drawling analogies to figures like "Lawrence of Arabia."

One shudders to think how many independent movies of this caliber not only fail to enjoy proper releases but fail to even secure theatrical release. It's the film world's great fortune that "States of Control" did not become one of them.

Reprinted courtesy of Boxoffice Magazine





BOXOFFICE MAGAZINE review of States of Control

filmcritic.com review of States of Control

DVD Verdict review of States of Control

ARTS TODAY (Australian Broadcasting Corporation) interview with Zack Winestine

FILM THREAT interview with Zack Winestine

FILM FORECAST interview with Zack Winestine

PRINCETON Magazine review of States of Control

INTERNATIONAL PHOTOGRAPHER article about States of Control

WIRED Magazine review of States of Control

FILMRUTAN (Sweden) Ron Holloway's review of States of Control at the Mannheim International Film Festival


STATES OF CONTROL HOME | ABOUT STATES OF CONTROL

REVIEWS & INTERVIEWS

CAST & CREW BIOS | FESTIVAL SCREENINGS | DISTRIBUTION | LINKS

TRAILER, STILLS, MUSIC!