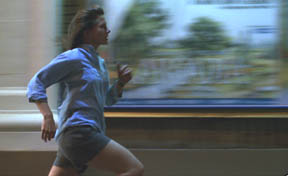 DVDVerdict.com
Review by Dennis Prince



Lisa (Jennifer Van Dyck, Stealing Martin Lane) is a pretty woman who lives a comfortably married life in New York City. The problem is, it's too comfortable; it's too easy to keep doing the same things, day in and day out, safe, calculated, routine, reserved. Dissatisfaction is brewing deep within Lisa as she harbors a growing regret and resentment of how perfunctory and therefore predictable her life has become. Her relationship with husband Abel (Stephen Bogardus, Second Best) is utilitarian, at best. Preferring to wrap himself in the world of his film-school academia rather than in the yearning arms of his sexually longing Lisa, he silently regards his wife as a possession rather than a partner, a keepsake of sorts that should be fully self-maintaining. Naturally, Lisa wonders if the fault is her own. Bored with her relationship, apathetic toward the quasi-autobiographical novel she's been struggling to write, and just painfully unfulfilled, she doubts whether she's capable or even worthy of living a real life. Fate intervenes when a new director steps in at the local theater where Lisa toils. Paul (John Cunningham, The Jackal) is a gruff and grating older man, ambivalent to the artistic needs of the theater's actors yet immediately captivated by Lisa and her self-professed plight. Through his non-stop litany of nihilistic expositions, he convinces Lisa that in order to experience life, she'll first need to shun all the norms and conventions Western civilization has foisted upon her. Intrigued and compelled, she begins to experiment with her own personal limits: sleep deprivation, pain threshold, sexual deviance, and lawlessness. Egged on by Paul while simultaneously envious of her free-wheeling and uninhibited friend, Carol (Ellen Greene, One Fine Day), Lisa dares to step outside her personal comfort zone and, while she finds a certain extent of exhilaration in her experiences, she struggles to truly break free of the persistent tugs of her former mundane existence.

Clearly, this is a film based solely upon its own narrative and not reliant upon a handful of key action sequences or effects displays; in other words, this is a film that isn't likely to come from the predictable palette of Hollywood. Busily serving as writer, director, and director of photography, Zack Winestine shows he has something to offer to the discerning filmgoer in States of Control. A cinematographer by trade (and having envisioned elements from the likes of The Rook, Strawberry Fields, to even the B-52s' music video, "Love Shack"), Winestine has more than adequate chops to helm a dense and deliberate excursion into the psyche of a woman who desperately wants to apply meaning to her life. Drawing upon his experience in camerawork and lighting, Winestine scripted and literally assembled the entire film on the mental screen in his head. His direction and camerawork are very deliberate, then, and the result is a viewing experience that involves the viewer in Lisa's ordeal; every detail she sees, we see. Every thought she rolls over in her head rolls over in front of us. At times, his method is so effective that we feel voyeuristic, a fitting effect since such experiences are what Lisa herself dares to explore.

Besides the skillful camera management and careful unraveling of the compelling plot, Winestine scores high marks for deftly refraining from "manhandling" the character of Lisa. He never panders to nor exploits her womanhood. In fact, female viewers will likely applaud the fact that never does the film's progression infer, directly or indirectly, that Lisa's femininity could be to blame for her unhappiness. Quite the contrary since, if anything, Lisa emerges as being more capable of visceral encounters than her male counterparts, as a key sequence in the film bears out. Naturally, casting was key to gaining this effect and Jennifer Van Dyck is perfect in the role. While she's tasked with portraying a highly self-conscious character, her performance is never compromised and we're convinced again that, while we're free to watch her every move, she's never aware of the camera that captures her exploits. Stephen Bogardus as Abel is precise in his performance, easily hissed for being such a self-absorbed louse who effortlessly exercises a more subtle form of spousal abuse. John Cunningham as director Paul is steely eyed in his sermonizing to Lisa and poses a dilemma to the viewer‹shall we hiss this obnoxious man, too, or do some of his counter-culture musing make sense, especially in serving Lisa's immediate needs? Frankly, there's much going on in States of Control, far beyond what many of today's viewers expect when sitting down to the usual big-screen bombast, and the result here is refreshing and much appreciated.

Although originally released in New York in April 1998, it's taken eight long years (practically to the day) before States of Control could find it's way to a DVD release. It's here now thanks to Pathfinder Home Entertainment. Don't expect the usual shine and sheen of top-list disc presentations, though. The film is presented in a 1.85:1 non-anamorphic letterbox transfer. The image quality is just OK, sadly, bearing far too much graininess for today's home entertainment technology. The color saturation tends to waver a bit as does the contrast. Granted, it's not unwatchable by any stretch, yet it's not nearly as controlled as big studio releases (or is that the subtle point being made?). The audio is presented in a serviceable Dolby Digital 2.0 Stereo mix and it's suitable to the feature, always intelligible and well balanced against the film's score. Extras on the disc include an interesting short film, On Some Consequences of a Passage by Guy Debord, which indicates the inspiration for States of Control. Other features include a trailer, biographies, a text interview, photo gallery, and selectable isolated music tracks of the film's score.

States of Control in not comparable to the spiffy and often overblown offerings from Hollywood, and perhaps that's what makes it the more compelling selection. It's a film that speaks to us on our level and succeeds in making a relevant connection. A previous Boxoffice Magazine quote touted it as "one of the most underrated independent films of the 90s." For once, that sentiment is well placed and certainly well deserved. Recommended.

Reprinted courtesy of DVDVerdict.com



BOXOFFICE MAGAZINE review of States of Control

filmcritic.com review of States of Control

DVD Verdict review of States of Control

ARTS TODAY (Australian Broadcasting Corporation) interview with Zack Winestine

FILM THREAT interview with Zack Winestine

FILM FORECAST interview with Zack Winestine

PRINCETON Magazine review of States of Control

INTERNATIONAL PHOTOGRAPHER article about States of Control

WIRED Magazine review of States of Control

FILMRUTAN (Sweden) Ron Holloway's review of States of Control at the Mannheim International Film Festival


STATES OF CONTROL HOME | ABOUT STATES OF CONTROL

REVIEWS & INTERVIEWS

CAST & CREW BIOS | FESTIVAL SCREENINGS | DISTRIBUTION | LINKS

TRAILER, STILLS, MUSIC!